A-4/V-2 Display - RAF Museum at Hendon, London, England
Photos Ed Straten



The RAF Museum at Hendon, London, Britain's National Museum of Aviation, celebrates the story of aviation from before the Wright Brothers to the RAF of the 21st Century with one of the world's finest collections of legendary aircraft and associated exhibits such as the A-4/V-2. The Hendon V-2 example was one of the British-prepared rockets from Operation Backfire in 1945. It is displayed in a hall with other WWII artifacts. The rocket has many cut-away sections showing internal components and is painted in an incorrect shade of green paint.

Photo below shows the RAF Hendon A-4/V-2 rocket and Vidalwagen trailer displayed in post-war years.




Seen below are photos of the Hendon V-2 display along with related artifacts such as the V-1 and the Grand Slam bomb.
(CLICK ON THUMBNAIL TO ENLARGE)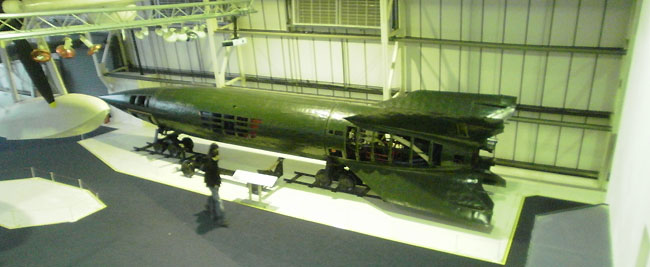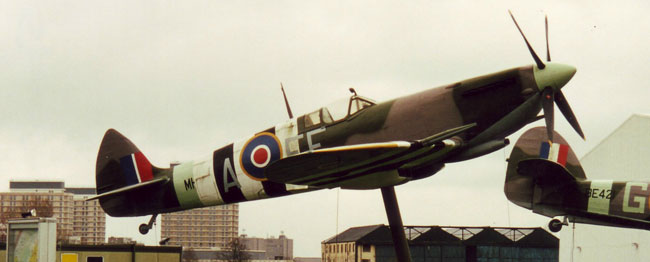 Opened in 1972 by Her Majesty the Queen, and situated on the historic site of Hendon's London Aerodrome in
Colindale, our North London Museum is Londonís only attraction to house over 100 aircraft from around the world
including some very early aircraft designs through to the latest modern day jets and military aircraft.




Royal Air Force Museum Hendon, London

The Royal Air Force Museum London, commonly known as the RAF Museum Hendon, is a museum located on the
former Hendon Aerodrome, dedicated to the history of aviation and the British Royal Air Force.

Hours: 10:00 am to 6:00 pm
Address: Grahame Park Way, London NW9 5LL, United Kingdom
Phone: 020 8205 2266






Hendon houses the London branch of the Royal Air Force Museum which portrays the role of the Royal Air Force in the development of aviation and avionics in the United Kingdom. The museum consists of several buildings containing a range of permanent exhibitions including "Our Finest Hour" in the Battle Of Britain Hall which was designed, produced and installed by specialist theme park and museum designers Sarner Ltd, the award winning "Milestones of Flight," which details the major developments in flight technology from 1903 to 2003.

Two buildings containing various aircraft and helicopters and part of the Grahame-White Factory, which contains many examples of original aircraft from World War One, and the early days of aviation can also be seen. Admission to the museum is free; as of 2010, there is a parking fee. The museum runs a program of free events throughout the year suitable for children and young adults as well as a 3D cinema, located in "Milestones of Flight," plus exploration Gallery "Aeronauts Interactive."