-
V-2 Plant Survivors Publicize Their Story
By BRETT DAVIS
Times Washington Correspondent
November 30, 1999
WASHINGTON - During World War II, a group of German engineers, led by the brilliant Wernher von Braun, developed the V-2, the world's first ballistic missile.
At the war's end, U.S. and Russian forces scrambled to get those German engineers and their knowledge. The U.S. Army won most of the race, spiriting von Braun and 128 of his compatriots to America. They settled in Huntsville and transformed the Nazi wartime technology into a series of space vehicles, beating the Russians to the moon and helping the world dream of space travel. In two decades, they became American heroes. That's the version of the story most people remember, but a group of survivors of the underground plant where the V-2 was built want to add something to that history.
V-2 factory workers who live in America are forming a loose-knit group to share their memories. They don't want the V-2 to go down in history as just a brilliant product the Nazis devised that was later put to good use by America. They also want people to remember the V-2s were built by slave laborers from concentration camps worked to death by Nazis desperate for a weapon to turn back the advancing Allied armies.
''People have now started to realize what happened there,'' said Alex Baum, who was a member of the French resistance and was captured and sent to the underground V-2 plant. He now lives in California. ''We want to make the public more aware,'' Baum said.
The president of the group is an anthropology professor from American University, whose husband had a relative who died in the Holocaust. Gretchen Schafft said she and her husband decided to find out about the relative, who they thought had died in the notorious death camp Buchenwald. Instead, they learned he died in a place called Dora. ''We didn't have any idea what Dora was,'' Schafft said in a recent interview at her home in Silver Spring, Md.
Ernst Stuhlinger, a Huntsville rocket team member who co-wrote a 1994 biography of von Braun titled ''Wernher von Braun: Crusader for Space,'' said von Braun gets a lot of blame he doesn't deserve from Holocaust survivors. ''They remember von Braun because he made a name for himself after the war,'' Stuhlinger said. ''They are inclined to put all the negative aspects of the Nazi regime on von Braun.'' In his book, Stuhlinger quoted von Braun as saying he was powerless to improve conditions for the workers.
Schafft said the Dora survivors she met told her what it was: hell. (In fact, Stuhlinger's biography quotes von Braun as calling the place ''hellish.'')
In the early years of the war, von Braun and his rocket team developed the V-2 at a Baltic Sea site called Peenemünde. When the allies learned of the site and bombed it, the V-2 factory was moved underground to a series of tunnels carved into the Harz Mountains. The place was run by a government-owned company euphemistically called the Mittelwerk, or ''central works.'' It was fueled by prisoners from nearby concentration camps, including Dora. Thousands died. In fact, more people died building the V-2 than did being hit by it.
Baum was a teen-ager active in the French resistance when he was captured and sent to Buchenwald, and then to Peenemünde, where he and about 400 fellow prisoners worked on the rockets. ''We had to work very, very hard, constant running, schnell, schnell, but we had soup and we had a decent facility where we could sleep,'' Baum said. ''We worked 12 hours a day and then 12 hours rest, seven days a week.'' And then things got worse. Peenemünde was bombed and Baum went to Mittelwerk, where he helped build the tunnels, a grueling process that killed thousands.
''Dora was a hell,'' said Baum.
''We had to build the tunnels. Imagining it, it's not even possible. We lived there in the tunnels in the beginning,... we had to sleep underground, day shift or night shift there was mining, explosions, you lived under tremendous dust. ''We didn't have showers for maybe six to eight months. We had one cup of water to drink a day, and we had a cup of coffee, a piece of bread and soup, that's it. We lost a tremendous amount of people.''
Ed Wynschenk was born in Holland and sent to the camps at 15 when the Nazis invaded. He went from Auschwitz to Birkenau and then, at the end of the war, to Dora, where his toes had to be cut off because of gangrene. On April 11, 1945, all the inmates were forced on a death march as the Nazis abandoned the V-2 tunnels in the face of the advancing Russian and American armies. Because he couldn't walk, the Nazis left him behind.
"The soldiers came the next day, the 12th. Many cried. The American soldiers were trained to fight other soldiers,'' Wynschenk said. ''They were not prepared for what they saw and smelled when they opened the gates of hell.''
Ragene Farris was one of those liberators. He was with the 329th Medical Battalion. He had seen V-2s in pictures but was not prepared for seeing them in the tunnels, with so many half-dead walking skeletons around. ''We went through it and saw all this amazing equipment and came out about three or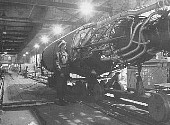 four miles away. We didn't really understand the intensity of this factory effort,'' Farris said. ''It was just amazing to me, for a 24-year-old soldier to go in there and see what these people had done, and later recognize that a lot of people were killed by these rockets.''
Farris attended a reunion of camp survivors at the camp site in 1998, and has become friends with Yves Beon, a French author and former inmate who has pushed for greater awareness of the camp, most notably with his book ''Planet Dora,'' published in the United States in 1997.
Beon was a member of the French resistance who was captured and sent to the camps, first to Buchenwald. ''People said you are a lucky guy because you are not going to Dora,'' said Beon, who still lives in France. He was transferred to another camp in the middle of winter, ''and when I arrived there it was snowing, terribly cold, and there was a guy with a shovel and we asked him, 'Where are we? What's the name of the camp?' He said, 'This camp is Dora.' I said, 'My god, this is it.' ''
Schafft also met Beon in the course of her research, and he urged her to lead an organization of Dora survivors in America. Since then, Schafft has been talking to Mittelwerk survivors and is planning a newsletter for the handful of slave laborers who live in this country. She may also host a get-together if Beon comes to the U.S. for a visit.
Some survivors don't want to be reminded of their time there, while others find it helpful to talk about their memories. ''They have many different opinions of how much they want to remember,'' Schafft said. Most are united in one thing, Schafft said - they don't want Wernher von Braun to be remembered as an unmitigated hero. ''I think most of them know about von Braun,'' Schafft said. ''They want the American public to know he was the technical presence behind this hellish life that they led.''
Baum said he remembers von Braun both from Peenemünde and Dora, although he had no contact with him or the other German engineers at the time by orders of the SS. He remembers one day when the top German brass, including Heinrich Himmler, the head of the dreaded SS and the second-ranking official in the Third Reich, visited Peenemünde. Von Braun praised the V-2 to them, Baum said.
''I understand German, too, because I was raised in Alsace-Lorraine (a region of France on the German border),'' Baum said. ''I could hear von Braun talking about the ultimate weapon that's going to destroy the United States and everything else. We (the prisoners) were not very close, but we could see them.'' Later, he would see von Braun visit the Mittelwerk, usually in the company of top military officials. ''He was very desperate to get this thing going, and he knew exactly what was going on,'' Baum said.
Stuhlinger's book does recount a scene where V-2s were test fired at Peenemünde before Himmler, as Baum remembered. One V-2 misfired but the other worked. Von Braun said that indicated the rocket needed more work, the book says, but Himmler pushed to move it into production. ''We never thought our rocket would be ready for military use before the end of the war,'' Stuhlinger said in an interview. ''We wanted to develop it as a future space rocket. Von Braun wanted to keep the project alive, but he did not want to have his rocket used as a weapon.''
But long after the war, when von Braun was held up as a visionary hero responsible for putting Americans on the moon, it was the von Braun praising the V-2 to his Nazi superiors that Baum remembered. He said he tried to telephone CBS anchorman Walter Cronkite, who was egging NASA on to victory in the space race, to tell him about Dora and what went on there. ''His staff said we wouldn't touch that story with a 10-foot pole,'' Baum said. ''I had called (journalist) Walter Lippman, and he says, I wouldn't touch that story with a 10-foot pole.''
Few people did touch it, for a long time. The story of the underground Mittelwerk ''was not known hardly at all'' during the space race days, according to Michael Neufeld, curator at the Smithsonian Institution's Air and Space Museum and author of a book about the V-2, ''The Rocket and the Reich.''
''It was essentially written out of history between 1947 and the 1960s, when it was essentially invisible, and only gradually emerged from that state of total invisibility,'' Neufeld said. In the 1960s, when von Braun was first achieving worldwide renown, East German's communist government publicized his honorary membership in the elite Nazi SS and his connections to Dora in an attempt at an expose, but Neufeld said the American press didn't bite.
A French citizen named Jean Michel published his memoir of Dora in 1975, and in English in 1979, which led to renewed interest in the story of Dora and the Mittelwerk - particularly from the Justice Department's new Nazi-hunting agency, the Office of Special Investigations.
That office eventually persuaded former von Braun team member and Huntsville resident Arthur Rudolph to leave the country rather than face prosecution for his part in the Mittelwerk, where he served as production manager. He mounted a lengthy battle to regain his citizenship and clear his name, but ultimately died before he was successful. "The Rudolph case was really the big bombshell and breakthrough'' in getting the story of the V-2 factory out to the public, Neufeld said. ''The controversy has gone on ever since.''
Former rocket team members in Huntsville and elsewhere rallied around Rudolph as he tried to clear his name, and they rally around the memory of von Braun, who died of cancer in 1977. Stuhlinger's biography quotes von Braun as saying the underground Mittelwerk plant haunted him, but there was nothing he could do. Von Braun mostly worked at Peenemünde and made only brief visits to the Mittelwerk, where he said he never saw any prisoners abused or killed.
But after one visit he did remember the environment as ''hellish. My spontaneous reaction was to talk to one of the SS guards, only to be told with unmistakable harshness that I should mind my own business, or find myself in the same striped fatigues!''
Martin Adler, who now lives in Detroit, was born in Hungary and, like Baum, was a teenager when the Nazis threw him in the camps. He went first to Auschwitz, then to Buchenwald, and then learned he was headed for a place called Dora. ''Dora was actually a death sentence. Anybody that went to Dora, the rule was to die,'' Adler said. The rest of his family died in the camps - his father was shot within three weeks of arriving with him at Dora - but Adler found himself in the clothing depot, where he was beaten and starved but not worked to death.
He compares von Braun to another famous Alabamian, George Wallace. ''George Wallace, he was very racist, and then the weather changed,'' Adler said. As for von Braun, ''he was a scientist and he wanted to excel, and he wanted to excel in the work that he did. If the regime was Nazi, so be it.''
Again, Stuhlinger's book offers a response, in von Braun's own words: ''The most depressing thought is the fact that I was absolutely without power to do anything substantial. Even if I had left the place and my work and gotten to jail, (SS leader) Himmler would have given orders to continue, but only under harsher and more stupid conditions. The inmates would undoubtedly have suffered more.''
The most recent book about Dora is Beon's own "Planet Dora,'' a fictionalized but, reality-based look at prison camp life seen through the eyes of the prisoners. Von Braun makes no appearance in the book, and neither does Rudolph, but Beon has no good feelings about them. ''For us they were just the same as the SS,'' he said. After the war, "when I heard that Wernher von Braun was considered in the states as an American hero, I could not stand it.''
Neufeld said scholars have not come around to a very balanced view of von Braun. The school of ''Huntsville history,'' as he calls the rocket team members' version of von Braun's war years, goes to great lengths to separate von Braun from any Nazi sympathies or the slave labor question. Likewise, Neufeld said, some von Braun critics toss around war crimes accusations that just don't hold up.
"There's really a divided opinion,'' he said. ''It tends to be very black and white. There's the anti-von Braun camp and the pro-von Braun camp. There isn't a lot of middle ground.''
© 2000 The Huntsville Times. Used with permission.