A-4/V-2 and Engine Display - Deutsches Museum, Munich, Germany
Photos by Christoph Westhaus, Ed Straten and Bert Hartmann.





This A-4/V-2 rocket and associated equipment is located in Munich at the Deutsches Museum (Deutsches Museum von Meisterwerken der Naturwissenschaft und Technik).

Displayed in a very unique way, this rocket gives a good overview of the interior components of the missile. In the photos below you can see the fine details of the Abschussplattform (firing table) assembly, which includes the jet rudder adjusting brackets, the igniter and flask and the oxygen replenisher coupling. Also shown below are two engine displays (seen in the last photos).

The Deutsches Museum is the world's largest museum of technology and science, with approximately 1.5 million visitors per year and about 28,000 exhibited objects from 50 fields of science and technology.

The museum was founded on June 28, 1903, on an island in the Isar River. The island formerly known as Kohleinsel (coal island) was then renamed Museumsinsel (museum island).


The Deutches Museum V-2 was originally located at the Aderdeen Proving Grounds in Maryland in USA.
At some point in the past it was sent back to Germany. See this Aberdeen film from 1950s below:

The Deutches Museum V-2 on exhibition in Berlin early 1960s,
Welt und Raumfahrt Austellung: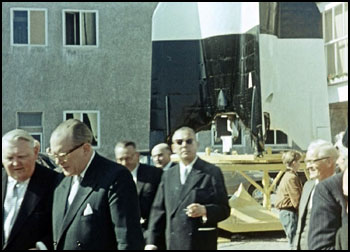 Photos below show the Deutsches Museum A-4/V-2 displayed vertically.

(CLICK ON THUMBNAIL TO ENLARGE)


Photos below show the Abschussplattform (one of only 4 remaining). It is the most complete version and shows all of the launch prep components,
such as the five-way coupling, valve box and bracket, oxygen top-off connection, cable mast bracket and pyrotechnic igniter.
(CLICK ON THUMBNAIL TO ENLARGE)



The museum has displays and cutaways showing various A-4/V-2 parts and assemblies.

(CLICK ON THUMBNAIL TO ENLARGE)

The Deutsches Museum in Munich, Germany, is the world's largest museum
of technology and science, with approximately 1.5 million visitors per year and
about 28,000 exhibited objects from 50 fields of science and technology.

Mon-Sun 9am–5pm
Museumsinsel 1, 80538 Munich, Germany
Phone: 089 21791