A-4/V-2 Replica (with original parts)
Flying Heritage Collection, Everett, Washington, USA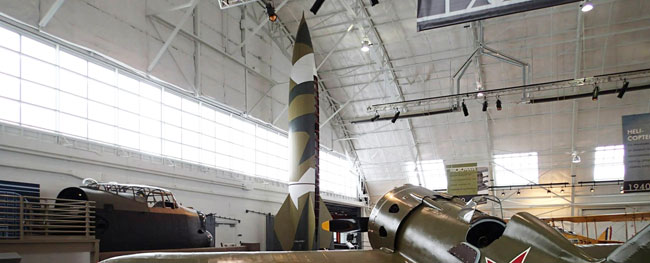 This fine replica of the German V-2 rocket was put on display at the Flying Heritage Collection Museum in 2013. The project was started in 2003 and its recent move to Seattle concludes the decade-long endeavor. It is one of 30 items on display in two new museum hangars that opened in April 2013.

The rocket features many original wartime German-manufactured internal parts such as the combustion chamber, turbo-pumps, fuel tanks, control compartment, thrust frame, heck ring and rudder control mounts. The fuselage, along with tail section framework and surfaces, were constructed from scratch to German specifications. According to FHC curator Cory Graff, this work was done in Florida at American Aero Services in New Smyrna Beach. A-4/V-2 serial number 21061 was launched on January 28, 1945, by the unit SS 500 from Hessum Site 410 and crashed near Raalte in Netherlands.




Video above shows time lapse sequence of rocket installation into FHC.


Photos below show the FHC V-2 delivered to the museum and set for new display.

(CLICK ON THUMBNAIL TO ENLARGE)

See virtual 360 views from nasatech.net Panometrics Technical Imaging.


The Flying Heritage Collection is Paul G. Allen's collection of rare military aircraft, which comprises
examples from Germany, Japan, Russia, the United Kingdom and the United States.

Hours: 10:00 am – 5:00 pm, closed on Mondays
Address: 3407 109th St SW, Everett, WA 98204
Phone: (206) 342-4242