A-4/V-2 Rocket with Meillerwagen Transport
RAF Aerospace Museum - Cosford, England
(Photos: Mike Imhoff, Ed Straten, Paul Clark and Murray Barber)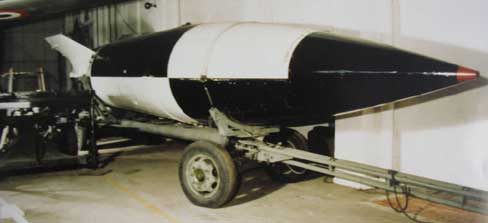 The A-4/V-2 rocket at Cosford is one of the finest examples of a surviving V-2 rocket. It is one of several rockets prepared by British and German troops during Operation Backfire. It so happened that this rocket was not launched during the Backfire tests. The rocket was roughly restored in the late 1970s, and then restored again just a few years ago. Another highlight of the exhibit is the Meillerwagen trailer—one of only 3 that survive today. The museum also has in storage the world's only known Vidalwagen transport trailer, along with a firing table (including towing dolly) and a portable Fries-style Strabo gantry crane. Over the years, the various Cosford equipment as been moved to different venues in different configurations.

CLICK THUMBNAIL TO ENLARGE

COURTESY COSFORD ARCHIVES
-

The RAF Museum at Cosford is a twenty-five-acre site is home to one of the most exciting collections of aviation history in the world. The museum comprises five collections of international importance with many displays including war planes and rockets from World War II to the present day. The photographs below show the large collection of A4/V-2 materials housed at the facility.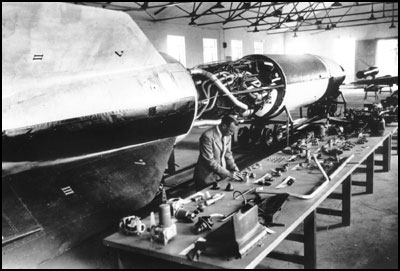 This photo from Wescott research center shows the abundance of V-2 materials leftover from Operation Backfire.
-
V-2 rocket with Meillerwagen trailer
CLICK THUMBNAIL TO ENLARGE